PACCS Telemetry
The PACCS telemetry solution is one of the world's most sophisticated remotely managed telemetry systems. It is a GSM/GPRS based telemetry solution and can connect to "smart" RS232 electricity, gas and water meters or directly to "dumb" pulse output meters, providing low cost automatic meter reading solutions.
PACCS Telemetry has extensive applications in:
distribution transformer monitoring
load shedding
automatic meter reading (electricity, water & gas)
service reliability monitoring and anti-theft systems
water conservation
remote monitoring
security applications
remote irrigation management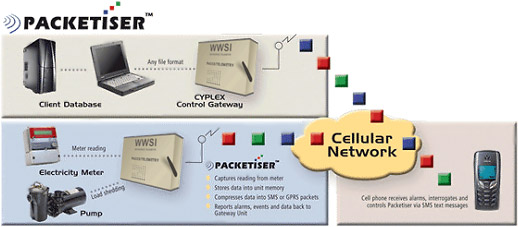 Providing fast & cheap automated meter reading solutions
At WWS International we recognise the need for cost effective meter reading applications across thousands of sites.
The PACCS Telemetry key advantage comes from the unique and efficient data compression techniques.
In fact, recent tests have indicated that per meter read, the PACCS Telemetry is almost 50% cheaper than our competitors.
Add that across thousands of sites and it becomes clear that the PACCS Telemetry can deliver significant savings of time and money.
PACCS Telemetry can compress 24 hours of 15 minute interval meter readings complete with time stamps and alarms, into a single SMS. (Equivalent to a file size of 1,500-2,500 bytes)
PACCS Telemetry dramatically reduces your ongoing communications costs while maintaining the highest level of reliability.
PACCS Telemetry, provides reliable communications even when GSM network signal strength is well below normal operating levels. Sophisticated data compression guarantees efficient transfer of data in a minimum of packets.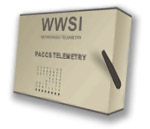 Optional input and output points are used for value-added services (VAS) such as load shedding and remote control of pool pumps, home security devices, hot water and central heating systems.
Thousands of PACCS Telemetry link to a PACCS Telemetry Gateway to automatically report their meter readings, load profile and event logs.
Alarm SMS text messages can then be sent to service personnel for immediate attention where they have the ability to remotely interrogate the unit and even control various functions via their mobile phone.
Programmable over the network and designed with FLASH memory (no battery back-up - no servicing), PACCS Telemetry is the ONLY product in its class that conforms to International Meter Reading Standards by synchronising to "real time" over any packet network regardless of packet delays.
For further information regarding our Automatic Meter Reading solutions, contact us at salesasia@wwsinternational.net
PACCS Telemetry Information
---

Top