OUTDOOR CABINET
IP Outdoor enclosures for telecom applications
Delta IP Outdoor Enclosures, widely used for telecommunication applications, are meant to be used in unprotected outdoor/street side environment as they are weatherproof and vandal-resistance.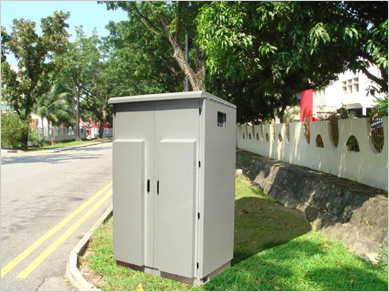 Configuration

* IP 55 level Protection.
* Available Mountable Height from 20U to 47U
* Depth 400mm to 1000mm.
* Width 600mm to 1800mm.
* Mild steel / Stainless steel 1.4301:
* Wall or floor mounted
* Ensured extremely tight sealing against ingress of water & dust- beyond IP55 level.
* 1,2 & 3 bay units with hinged 19" frame & battery banks compartment with heavy duty stand.
* Filter at door, 4 x EBM fans 6248 with 180 m3 /h mounting at top of each bay & above battery trays to pull large volume of hot air out of the cabinet & blow it out.
* The enclosure base plinth comes with lockable covers for cable assess.
* 1 bay unit on side (optional) for access battery bank
* Mounting kit for 19" and ETSI configuration
* Internal mounting in accordance with IEC 297 (19"), EIA-RS-310-D:Standard for rack mount.
Finished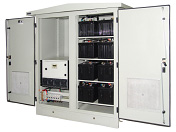 * Polyester powder coat RAL 7035 for a high
* level of corrosion resistance in warm, humid climates, including outdoor & long term use.
* Coating will resist to
o Mineral oils
o Lubricants
o Machining Emulsions
o Solvents
o Alkaline
* Properly de-greased & cleaned before application of paints finish.
Accessories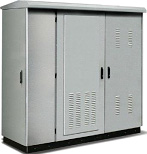 * Mounting kit for 19" and ETSI configuration.
* Reliable Blower system with EU-5 filter
* Peltier Cooling system
* Air conditioner and heat exchangers
* All accessories are easy to install, remove for cleaning, such as fan assemblies, dust filters, batteries, & cable glands etc.
* A full range of compatible cable management accessories are available.