W20 - Data Only for WCDMA 850 MHz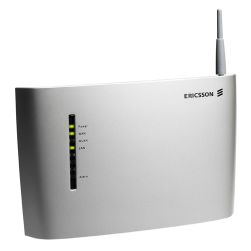 Ericsson's W20 3G Fixed Wireless Terminal is the ultimate high speed wireless data solution. The W20 houses a SIM card from any 3G network so Internet connection and IP faxing is made via the 3G network. Calls are charged at mobile rates. This allow users to take advantage of the capped plans and cost effective rates offered by some carriers.
The W20 has a four port router for connection to up to four computers and WiFi for wireless connection to a laptop. Two USB 2.0 ports for printing and storage and data speeds of up to 3.6 Mbps ensure the W20 is a complete data solution for your home or small office.
If you do not have access to a 3G network, the W20 has backwards GSM operating capabilities. Simply use a GSM SIM card in place of a 3G SIM card.
Wireless mobile broadband is a cost effective alternative to ADSL2/WiMAX so is perfect for the small, home or temporary office.
Connecting to the Internet for weather reports or just to keep in touch with family and friends whilst on a boat has never been easier than with the W20 Fixed Wireless Terminal. The W20 Fixed Wireless Terminal operates over the mobile network which makes connection to the internet up to five times cheaper than connecting via satellite.
The W20 is the perfect choice for anyone wanting internet connection whilst out on the water- and anyone wanting to a wireless data connection for a small or temporary office.
If you want to connect more than one computer, the W20's four port router offers users connection of up to four computers and WiFi allows users to connect wirelessly via a lap top. Two USB 2.0 ports accommodate a print server and storage methods- ensuring all of a user's data needs are met by the W20.
The W20 Fixed Wireless Landline's software is capable of upgrades, and also has an automatic update feature.
Features
W20a dual-band GSM850/1900 & WCDMA850/1900
HSDPA, Category 11 and 12, up to 1.8 mbps (downlink)
WCDMA, up to 384 kbps
EDGE, multi-slot class 10 (4 + 1), (3 + 2) up to 237 kbps
GPRS, multi-slot class 10 (4 + 1), (3 + 2) up to 86.2 kbps
Two USB 2.0 ports (Print Server and Mass Storage)
Wireless LAN Access Point IEEE 802.11 b/g
Four ports Ethernet Switch (RJ45)
Protocols - Routing, NAT, ALG, DHCP and DNS Server
Security - Internet Security: Firewall, Packet filtering etc.
Wireless Security: WEP, WPA/WPA2
SW auto update
Remote Management capability