SmartPTT Enterprise
SmartPTT Enterprise is applied for construction of distributed radio communication networks with a wide range of features:
Multi-site and/or multi-channel systems
Trunking or pseudotrunking systems
Fully-functional telephone interconnect
Bridging of different types of networks
SmartPTT Enterprise includes all functionality of SmartPTT Basic, but significantly differs in architecture approach.
SmartPTT Enterprise connects to MOTOTRBO repeaters through IP protocol and supports data operations through MOTOTRBO Network Application Interface (NAI), which makes the software a perfect solution for IP Site Connect, Capacity Plus, Linked Capacity Plus, and Connect Plus.
SmartPTT Enterprise supports both digital features of MOTOTRBO radios and analog mode to facilitate gradual upgrade to the new radio communication standard by means of a «mixed» mode of operation when some sites operate in analog mode and others in digital.
SmartPTT Enterprise Advantages
Infrastructure monitoring. Detailed analysis and performance monitoring of MOTOTRBO dispatch system result in maintenance cost saving.
Enhanced Functionality. Direct control over MOTOTRBO IP Site Connect allows enhanced control over radio subscriber:

Logging all data and voice activity in the network. Compared to SmartPTT Enterprise the systems based on control stations (mobile MOTOTRBO) has the option to log only the calls received by the control stations and the private calls between subscribers are not logged.
Logging information about the repeater used by subscriber for calls. SmartPTT Enterprise allows identification of the repeater used by subscriber to give a call in MOTOTRBO IP Site Connect network. With this information it is possible to know approximate location of a subscriber even without a GPS-receiver.

Reliability. SmartPTT Enterprise architecture requires significantly less functional blocks to build the dispatching system compared to other applications. SmartPTT Enterprise doesn't require control stations (in case of direct connection to repeater). In addition, it is not necessary to put radioservers to monitor the network in the coverage area.
Scalability. The optimized architecture and enhanced means of dispatching control in SmartPTT Enterprise allow effective construction of dispatching systems of any size and topology.
Data transfer channels. IP channel for 32 kbps per each slot is enough for MOTOTRBO IP Site Connect control.
Cost efficiency. SmartPTT Enterprise significantly cuts down expenses for dispatching system compared to solutions based on control stations owing to far less server equipment used for SmartPTT and no need in control stations in this case.
SmartPTT Enterprise Application
SmartPTT Enterprise is a perfect solution for dispatching control over radio networks based on MOTOTRBO IP Site Connect, MOTOTRBO Capacity Plus, MOTOTRBO Connect Plus or standalone MOTOTRBO repeaters.
SmartPTT Enterprise Architecture
SmartPTT Enterprise is based on Client-Server technology and allows for construction of dispatch systems with any number of radio networks and dispatch consoles.
SmartPTT dispatch console represents a software application on a PC located at any distance from the controlled radio networks. The dispatch console controls the networks through SmartPTT radioservers via IP. In addition, a dispatcher can connect to several radioservers in parallel.
SmartPTT Enterprise radioserver controls subscribers through MOTOTRBO repeaters.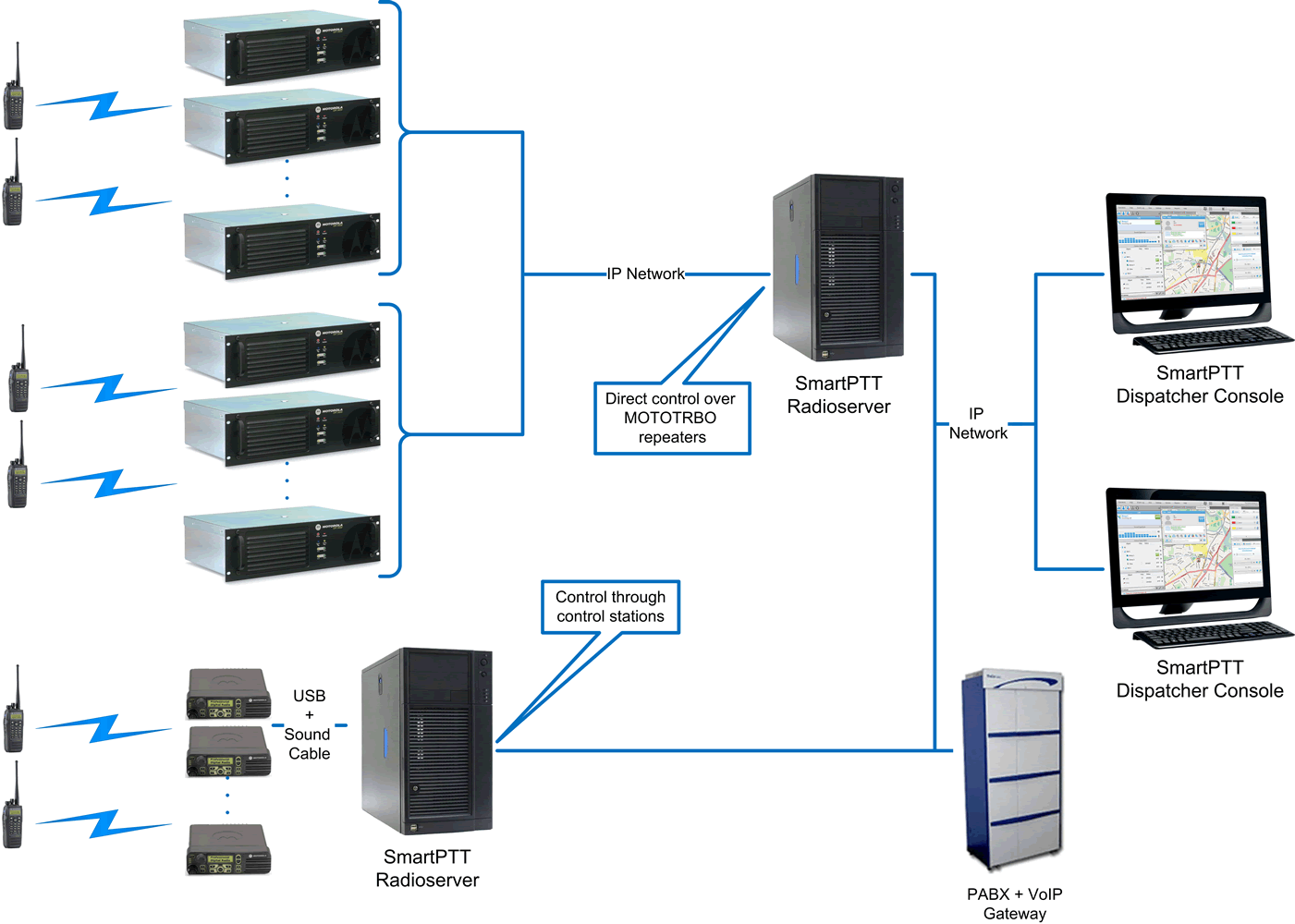 Standard Features
| | | | |
| --- | --- | --- | --- |
| | Radio Dispatch | | Events and Voice Logging |
| | GPS-Tracking | | Text and Data Transfer |
| | Job Ticketing | | Lone Worker |
| | Fleet Management | | Telemetry |
Optional Features
| | | | |
| --- | --- | --- | --- |
| | Telephone Interconnect | | Direct IP-Connection |
| | Monitoring | | Simulcast |
| | Radio Network Bridging | | Mobile Solutions |
| | Web-Client | | |