Ericsson Fixed Wireless Terminal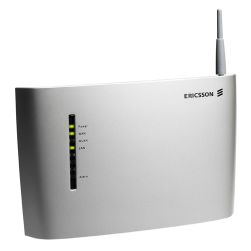 G30 Voice only
G32 VFD
G35 V for PABX
G36 VFD for PABX
W20
W20 3G
W25 3G

Click here for Software Release R10C
Ericsson's G30, G32, G35 & G36 Fixed Wireless Terminal Series
The Ericsson Fixed Wireless Terminals are the natural choice for residential, SoHo and business communication needs. Users can benefit by using the FWT's, as it helps save on costs by turning fixed to mobile calls into mobile to mobile calls. Homes, offices and other areas lacking fixed communication infrastructure, or residents and businesses that would like to get rid of their landline or reduce the number of landlines, will benefit from the FWT as it operates over an existing GSM network.
What is a Fixed Wireless Terminal?
The G30's Series are a GSM Fixed Wireless Terminal that acts like a GSM Gateway between a landline handset and the mobile network. The fixed wireless terminal is a fully integrated device that offers users voice communication over the cellular network, with dial tone and crisp voice quality equivalent to that of a fixed line.

How does a Fixed Wireless Terminal work?
The fixed wireless terminal can connect to any landline telephone. The units take any standard GSM SIM card and send all calls over the cellular network; allowing users to take advantage of more cost efficient mobile to mobile call rates and capped plans.
Why the G30's Series?
The G30's Series terminals offers Ericsson reliability, extremely low failure rates and mobile network compatibility. Thanks to the simplicity of the G30's terminals, the installation can be carried out with ease. Last but not least, the G30's terminal features Remote Management capabilities that enables monitoring and management of the unit from a location of your convenience.

Wireless Terminals / Fixed Cellular are also known as:
Cellular Fixed wireless terminal
Cellular gateway
FCT / FWT
Fixed Cellular Terminal
Fixed Wireless Terminal
GSM Dialer
GSM Gateway
GSM Gateways
GSM Interface
GSM Terminal(s)
Mobile gateway
Mobile phone you connect to your PABX
PABX Mobile Interface
Portable Cellular Access
Portable dial tone service
Wireless Basic Telephone service
Wireless Office
Wireless Gateway
Wireline Office
Wireline Replacement

---